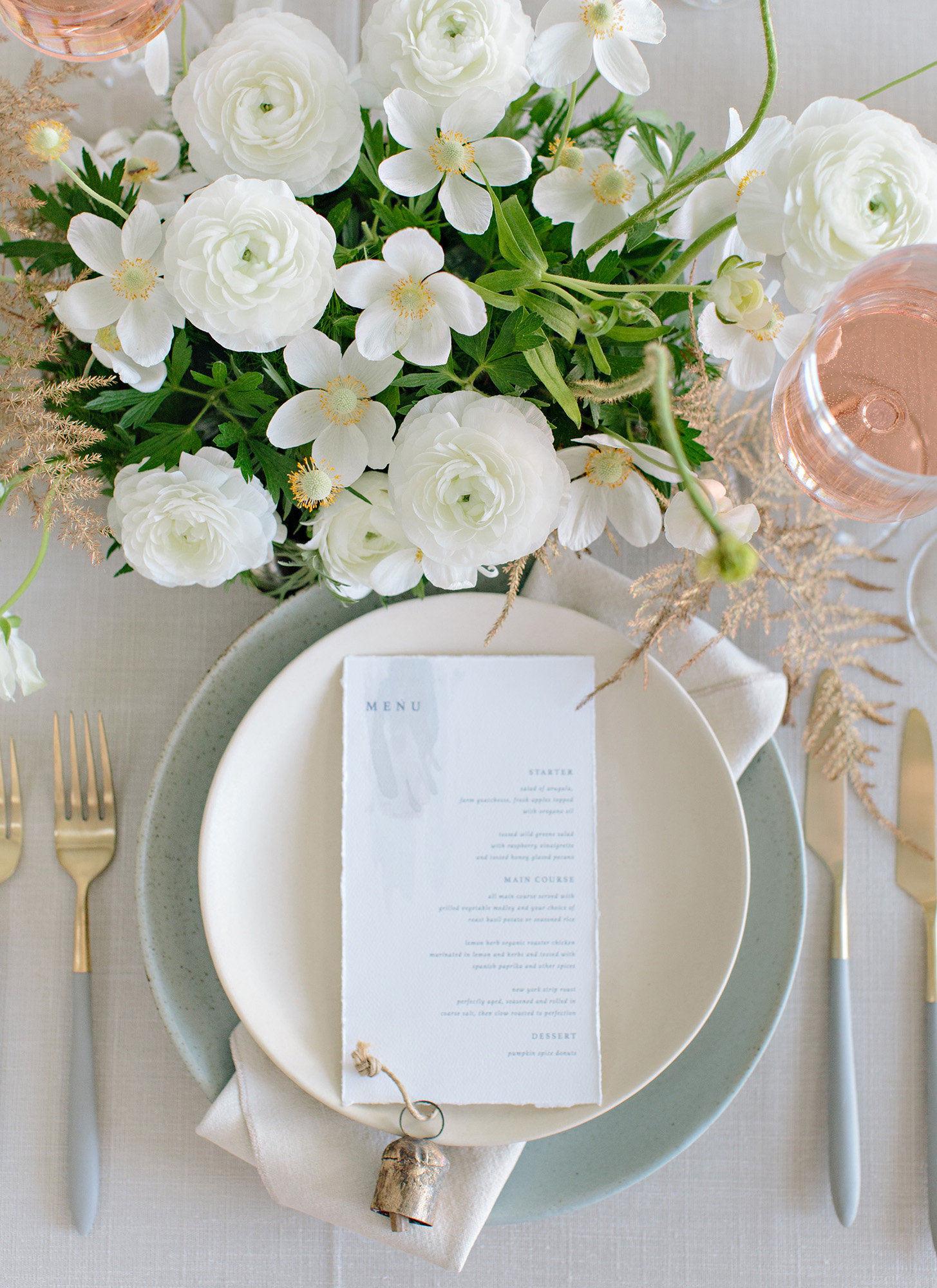 how it works
Hooray Paper Co. was established in March 2019, but our stationery expertise extends much further back…WAY back. Don't let our glowing, youthful faces fool you, we have been in the stationery business for over 10 years (you really can't put a price on good moisturizer). 
At Hooray our goal for every transaction is a smooth, simple purchase. Planning an event can be really hard, so our aim is to make your stationery experience ridiculously easy! See below how to order! 
one
Select and purchase your favourite wedding items.
two
We'll email you a confirmation of purchase and a google form to fill in with your wording information.
three
Final artwork will be emailed to you for proofing. We will require a digital signature.
four
Once approved, your suite is off to print! Hooray! You did it, we will send you all of your items.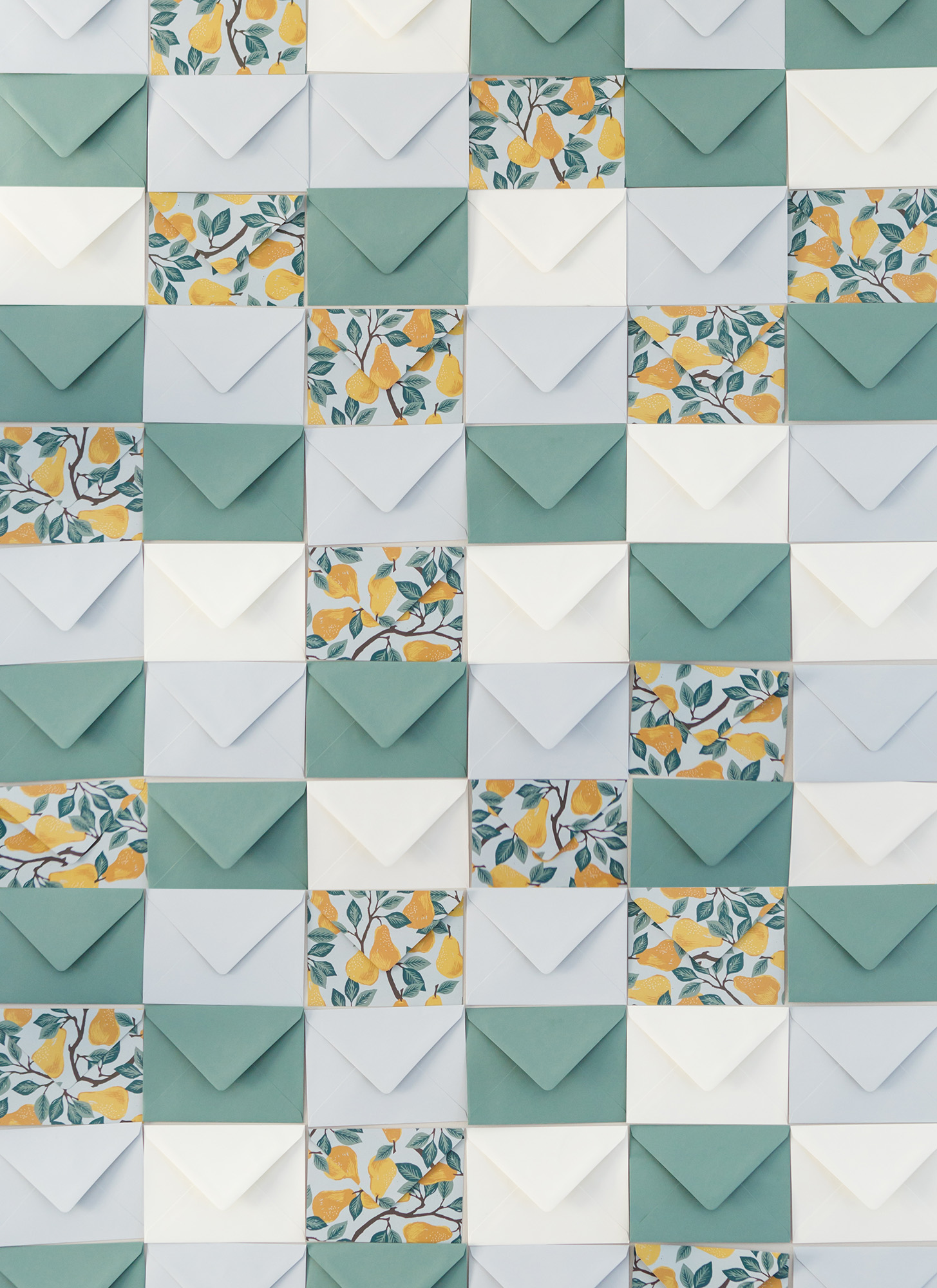 What are stationery collections?
These are pre-designed sets of all of the event stationery you will need, including the wedding website. Hooray! You choose the collection you like best and select which pieces you need for your event. Stationery collections are more affordable and quicker than custom designs. You are limited on changes that can be made, however you are able to adjust the colours and wording to suit your style. 
Do you offer custom designs?
Yes we do. It depends on our schedule as we can only take a limited number of custom jobs at one time. If you're interested in exploring this option further, please get in touch with us for more information.
How long will it take to get my order?
We require 2-3 weeks to produce your order plus shipping time. This will might change depending on how quickly the comunication back a forth with our design team goes. We will not print your order until we have an approved digital signature. If you're tight on time, then please get your guest list and invite text sorted ASAP and get in touch with us prior to placing the order to confirm when we are able to deliver.
When will my order ship?
We will not ship your order until all payments have been received and you have signed the digital proof. Once this happens we print your order and then begin our packing and shipping process. You can expect your happy-mail to be shipped within 7-10 business days. If you in a rush and unsure if we can meet your deadline, please contact us. We will do our best to accommodate your needs! 
Do you ship internationally?
Yes! We want to share Hooray Paper Co. with the world! Please contact us for a custom quote for shipping outside of North America. Please also keep in mind that international delivery can take an additional 2-4 weeks (sometimes longer due to COVID). You will be liable for any additional international processing fees, which are due upon delivery of your order. Hooray cannot be responsible for orders put on hold by customs. However, we will do our very best to work with you to avoid this type of problem.
I'm in a rush, can you expedite my order?
We do offer a rush service at an additional fee of $150. We do our best to produce orders as fast as possible. Please get in touch with us to discuss further.
I want to see samples and discuss options, how can I do this?
No problem, we have sample packs you can ordder that shows the different paper stock and print quality. Or contact us and we can set up a consultation with one of our designers to go through all of the options.
Can I change the colours of the collections?
Yes, for most of our collections we offer colour changes at no extra design charge. You can choose to print in a different colour ink.  If you don't see a colour you like on the website, please get in touch with us for more options. 
Can I make changes to the collections?
These are designed to be ordered as is, but we can make some changes if required. Design fees apply and will be quoted based on the changes. Get in touch with us for more information.
What kind of printing options do you offer?
We are currently printing digitally (flat printing). We offer a number of different paper stocks in various weights and colours. Custom design we have the ability to print in different ways but it will be pre-quoted in our initial design meeting.
Are your paper stocks sustainably sourced?
All our papers are FSC certified, 100% recyclable.  We do offer some recycled paper options.
Are your inks environmentally friendly?
We are always striving to find more environmentally friendly printing methods. Digital Printing is more ecological friendly than Offset printing or Screen Printing. No ink or dye is wasted with digital printing since it's all consumed in the print. There are no plates, blankets, or screens to be washed. Waste from printing eventually ends up in our environment, causing  damage to to our planet.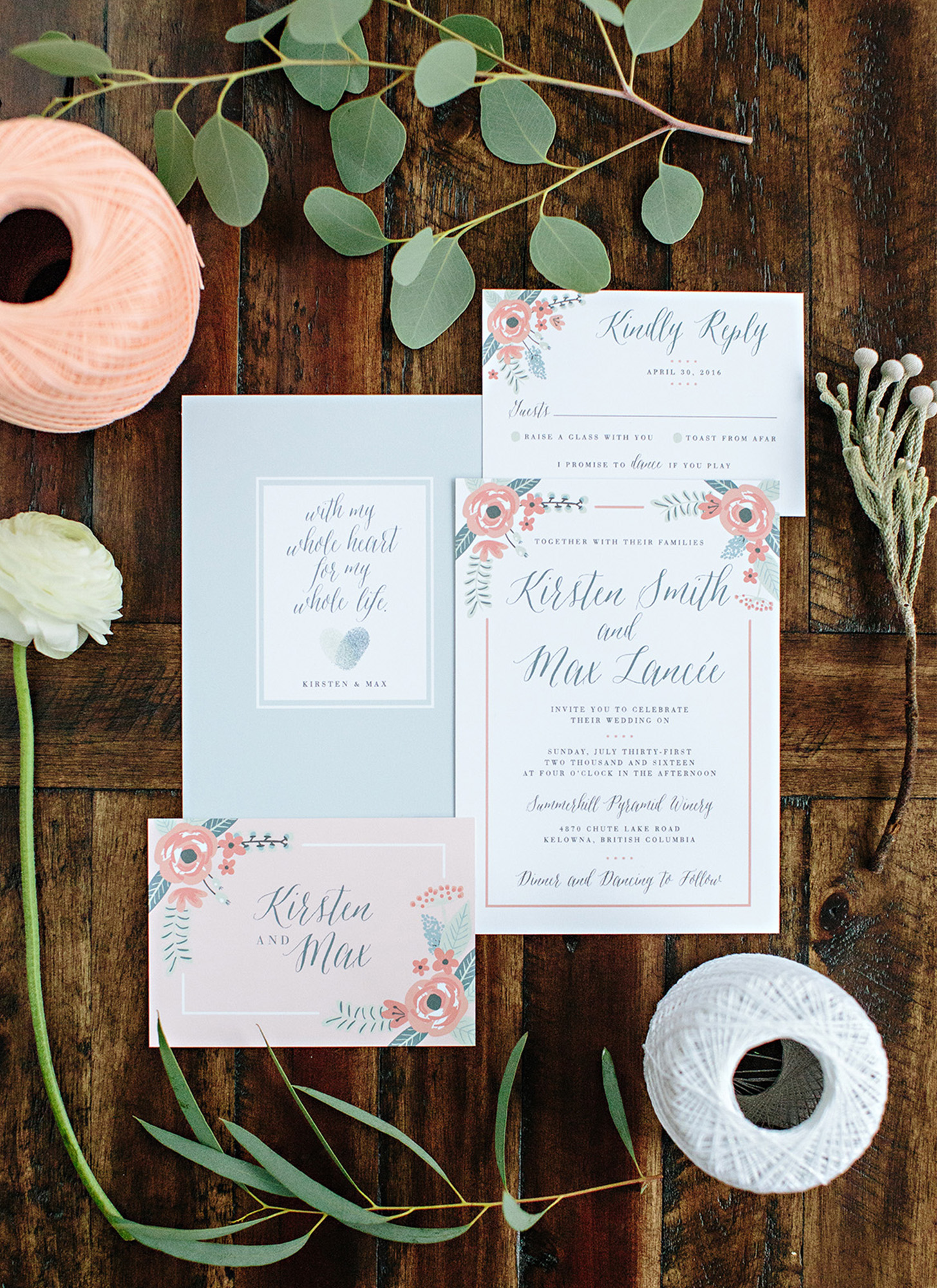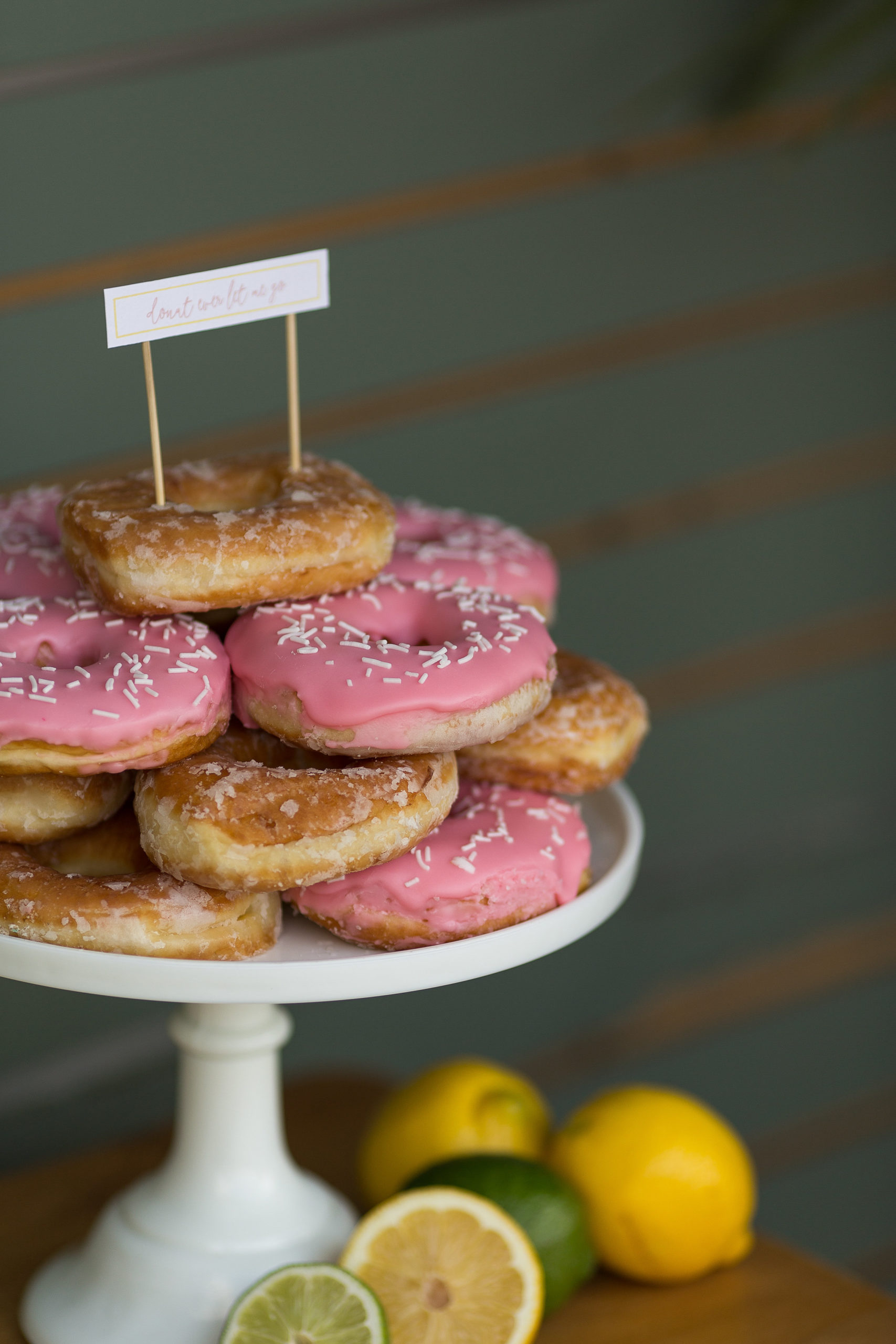 I don't want to order 25 pieces, can I order less?
Sorry, we have a minimum of 25 for all invites, collections and day-of details. The cost to print at quantities lower than this is very high, increasing the cost to you! We always suggest ordering at least 5-10 spares.
Who will deliver my order?
Canada Post is our designated mail carrier to all Canadian addresses. For information on orders damaged or lost in transit, please follow the links or talk to your nearest Canada Post Service Agent. International and rush orders may vary in carrier.  Please contact us for a custom quote.
What happens if I am not home when my happy-mail is delivered and I cannot accept it?
All carriers charge a fee to return packages to the sender. As we shipped the package on your behalf, you will be liable for the return shipping fees if the carrier is unable to deliver. (usually this is only after multiple attempts by the carrier).

Additionally, if the address that you provided us with was incorrect, there will be a $10 service fee charged in addition to any reshipping fees. Please double-check your mailing address! 
How do you take payment?
We accept payment by Credit or Debit, processed through our website either via Square, or PayPal. Hooray Paper Co. is a licensed business in British Columbia and is required by law to charge an  sales tax on all orders.
NOTE:  Email is not a secure means of transmitting payment information, such as credit card numbers. We will never ask for payment information via email, and we will also not accept payment sent in this form. 
Do I need to pay for my order in full?
Full Payment is required at the time of purchase before any processing. Once payment is received, you'll receive a confirmation email.  Your order will begin processing and a proof will be sent to your email for confirmation within 2-3 business days*. Please keep an eye out for this communication, as a delay here could delay your happy-mail. We will not continue with production until we have your signed approval.